How does MES help improve your ERP solution?
Manufacturing companies must increase efficiency, productivity and profitability to remain competitive.
In order to do so, they must gain faster insight and analysis of their business; an integrated, configurable solution is key.
According to research by the Aberdeen Group, 74% of Best-in-Class company executives have real-time visibility into the performance of manufacturing operations across the board.
There is no reason why SMEs should be denied the same level of visibility and gain the same benefits.
However, competing demands across different functions can get in the way. The 'silo mentality' and 'special case' thinking has, too often, led to the acquisition of IT solutions that may be seen as ideal for a particular function but turn out not to be on speaking terms with anything else – or not without a lot of time and effort and the involvement of expensive integration services.
Different functions should not be seen as having competing IT system needs, any more than they should be seen as independent activities.
They are all essential to the success of the enterprise and they should all be integrated in order to gain the full benefits that these solutions offer.
It is pretty unlikely that any business will find a single ERP solution that will do everything, at the right scale, for every enterprise, in every industry. As discussed previously in our blog "What is MES?" ERP sits at Level 4 of the IT hierarchy covering Business Planning and Logistics. It establishes the basic plant schedule, production, material use, delivery and shipping, and determines inventory levels.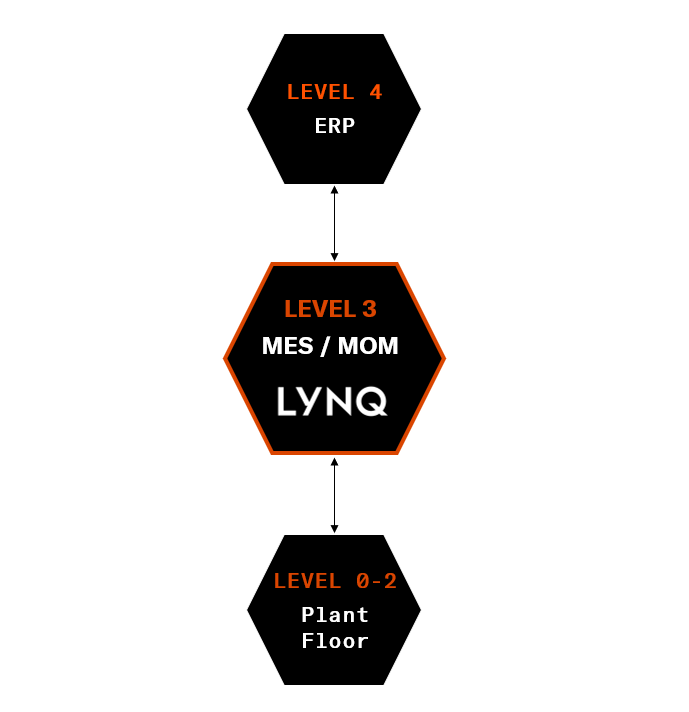 Small and medium size enterprises often find that standard ERP systems do not:
have the level of resource management,
detailed scheduling,
dispatching,
execution management,
data collection,
tracking and
performance analysis that they need.
MES extends the ERP to optimise manufacturing operations with data collection, from both employees and machines, providing insight into where efficiencies can be made. MES equips a manufacturer with the tools they need to minimise loss and maximise order fulfilment, providing invaluable insight as to where continuous improvement efforts should be focussed.
It is a reality that a shopfloor left to its own devices will often follow the line of least resistance. It will pick the jobs that can be done most easily, or quickly, and will genuinely believe that hard work is being done but, if the plan is not being executed as expected, problems will arise. Delivery dates may not be met; stock will not be turned over as effectively as should be the case; work in progress will increase; and resources will not be used as efficiently as they could be.
LYNQ MES provides real-time visibility of all manufacturing resources, collecting data from employees and machines and syncing this data with a company's ERP solution.
This can be used to monitor resources performance and effectiveness, ensure that the production plan is executed as per business requirements and drive digital transformation initiatives forward.
Improved resource visibility reduces downtime, enables manufacturers to work in a more agile way and improves business decisions through an informed view of timings, costs and capacity. In association with OEE and OLE monitoring, it identifies potential problems before they become unscheduled stoppages. Bottlenecks become clearly visible, quickly, which allows timely intervention and resolution.
A company involved in healthcare equipment manufacture used LYNQ MES to improve visibility of machine and operator activity, enabling it to gain a clearer understanding of where bottlenecks or quality issues may occur, and why. It facilitated order, optimisation and the effective management of precious resources and personnel. Read the Bodypoint case study here
An MES system that is readily configurable can extend and enrich ERP systems with a configurable, plug-and-play solution. Costs are affordable to SME and mid-level companies and ROI can be rapid, with most companies paying for the solution with the savings they have made in as little as 6 months. Read the IKI Manufacturing case study here
LYNQ MES is designed to enable manufacturing businesses to plan and track production, to automate data collection, boost factory performance and loss management and improve collaboration and document control. In doing so, it helps manufacturers to make headway on the road to digitalisation and automation.
LYNQ is a 'plug and play' MES solution, which readily works with all major ERP systems and helps to optimise their performance. It allows users to gain a competitive edge with world-class manufacturing insight and analytics, without the stress and inconvenience of integrating multiple planning, scheduling and operations management systems.
In the next piece, we will look in more detail at how to justify investment in MES