Codestone and LYNQ present as SAP Business One ERP and MES partners at the HEADtoHEAD™ Event in Dublin
In the ever-evolving landscape of enterprise solutions, staying ahead of the curve is essential. For manufacturers looking to streamline their operations, make data-driven decisions, and drive profitable growth, having the right ERP (Enterprise Resource Planning) and MES (Manufacturing Execution Systems) solutions are paramount. It's no surprise then, that leading SAP Business One ERP provider, Codestone and revolutionary MES provider, LYNQ are proud exhibitors at the upcoming ERP HEADtoHEAD event taking place in Dublin from October 24th to 25th, 2023.
This event is ideal for manufacturers looking to enhance their production process. IT executives, as well as members of ERP and MES selection teams, will find this event invaluable.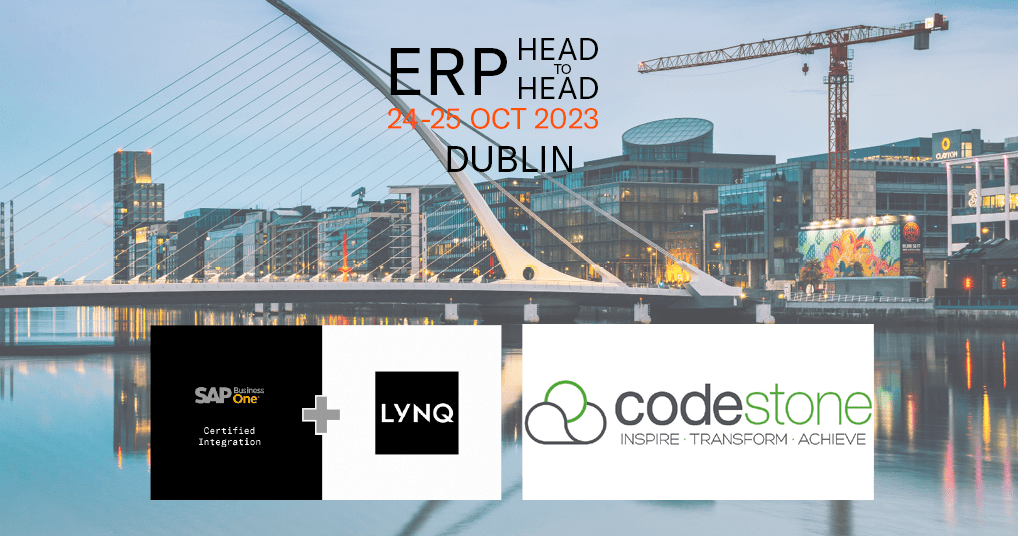 Codestone: Your Partner for SAP Business One Solutions
Codestone has a fantastic track record in pioneering modern ERP and cloud database technologies for over 25 years. As an award-winning SAP partner, Codestone's primary focus is on delivering cloud business technology consulting and successful SAP ERP and LYNQ MES to SMEs, mid-market manufacturers and large enterprises across the UK and EMEA North.
With 700+ customers and 2500+ projects under their belt, Codestone is a recognised thought leader and systems integrator in the manufacturing ERP industry.
LYNQ: Your Partner for a Revolutionary MES Solution
LYNQ is a tailored solution designed specifically for manufacturers to enhance the capabilities of SAP Business One. LYNQ's platform offers advanced functionality and tools that cater to the unique needs of manufacturing companies and their users.
While Codestone shines with SAP Business One expertise, LYNQ brings its own unique strengths to the table as an MES solution partner integrated with SAP Business One.
LYNQ is poised to contribute to the ERP HEADtoHEAD event in Dublin by offering a comprehensive solution to streamline planning and production processes. The integrated system not only enhances efficiency but also ensures bi-directional communication for seamless operations. The quick deployment of LYNQ MES is a standout feature, with implementation taking less than 12 weeks. Moreover, it easily integrates with existing Enterprise Resource Planning (ERP) systems, like SAP Business One, thanks to its plug-and-play capabilities.
LYNQ MES doesn't just improve operational efficiency; it also provides valuable insights. It comes equipped with out-of-the-box factory performance analytics, including metrics like Overall Equipment Effectiveness (OLE), Overall Equipment Efficiency (OEE), and Total Effective Equipment Performance (TEEP). These analytics empower manufacturing businesses with the data they need to visualise losses and inefficiencies in their production processes, driving continuous improvement initiatives.
One of the most compelling aspects of LYNQ MES is its rapid ROI. Typically, businesses can expect to recoup their investment in less than six months. LYNQ MES contributes to increased productivity and profitability, making it a valuable asset for any manufacturing operation.
Join Codestone and LYNQ at ERP HEADtoHEAD in Dublin
The ERP HEADtoHEAD event promises to be a beneficial experience for manufacturers seeking solutions to enhance their manufacturing production processes. There will be demos, presentations, panel discussions and networking opportunities.
Codestone and LYNQ are proud to support an event that empowers businesses with the knowledge they need to make informed decisions about their ERP and MES investments.
To ensure you don't miss out on this exciting event, register today and take advantage of the group discounts. The ERP HEADtoHEAD event is your chance to meet the #1 SAP Business One ERP partner and the best global MES service provider that can drive your business forward and streamline your operations for a more prosperous future. Register >>