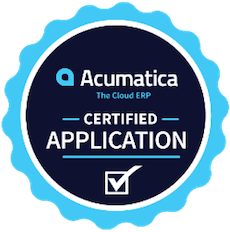 Connect Acumatica ERP to LYNQ MES
Connecting shop floor data to Acumatica, with advanced planning and scheduling, to digitalise and drive factory performance.
Acumatica ERP Connector provides a certified integration from LYNQ MES to Acumatica ERP. Seamlessly connecting manufacturing and finance operations with a bi-directional flow of data, reading data from Acumatica into LYNQ MES and writing data back to Acumatica from LYNQ MES.
Watch more here.
LYNQ MES provides Acumatica users with a solution to digitally transform their manufacturing operations. Including:
Advanced planning and scheduling (finite capacity planning and drag and drop scheduling),
Data collection from the shop-floor (automatic and manual),
Factory automation,
Paperless shop-floor,
Optimised workflows (instant messaging, downtime alerts, online document storage),
World-class analytics on manufacturing data including detailed loss analysis, OLE (overall labour effectiveness) and OEE (overall equipment effectiveness).
All fully integrated with your Acumatica ERP solution.
LYNQ is certified with Acumatica version 2022 R2, view us in the Acumatica marketplace here.
Watch an introductory demo of LYNQ MES integrated with Acumatica here.
Connect with Acumatica ERP Connector
Please enter your contact information in the form below and the LYNQ team will help facilitate the introduction.
"*" indicates required fields